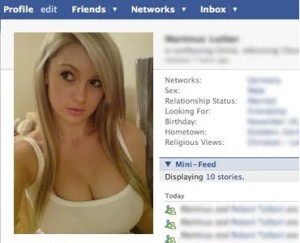 Facebook has grown so popular that it temps you to want to pick up girls there even if it is against your style and belief to find girls online. People reveal so much about themselves that you start to feel better about them than you first did before you found out who they really are. But there's also a part of you that just wants to try a move on a hot girl that you just added on Facebook. This is what this article is about so read up if you're interested.
    1) Impress her with your photos
Don't you just feel irritated when someone you don't know added you especially if he doesn't put a picture of himself? According to research, 83% of Facebook users don't even accept friend requests from a person who doesn't have his own photo so be sure you have a great photo of yourself in your profile page. Make yourself look attractive in your photo to even the odds because clearly you must have been attracted to her because of her looks too.
    2) Update your social life
One of the most important things that differentiate Facebook from an online dating site is the ability to share your social life. Updating your page on places you've been, events you've attended or even simple photos of your friends will make her more attracted to you because most girls love outgoing guys. It also shows that you're not a loser who sits at home so that's one less thing she should worry about compared to if you pick her up personally. If you only have ten Facebook friends and your wall hasn't been updated for a year, she'll get suspicious. But bear in mind not to post often either as that's just downright annoying unless you're someone famous, you don't want the girl thinking that Facebook is your life. But don't let her find out that you've been hitting on other girls as that would turn her off instantly.
    3) Friend her if aren't already
Most girls that guys want to pick up on Facebook are usually mutual friends that they see from photos because if the girl is someone that they know then obviously they'll hit on her in person. So when you're ready, simply send her a friend request and she'll definitely go through your profile before accepting you. If she rejects you, she either has a boyfriend already or she just doesn't date guys on Facebook. If she accepts, congratulations, move on to the next step.
    4) Like and comment her post
Time to build up your friendship. You obviously don't want to tell her that she's hot the moment she accepts you. Instead, be cool and find and opportunity for you to start a conversation with her and a great way would be by commenting on a photo she updated or any other posts. Be sure to like the posts if she updates new ones but don't go and like all because that would spam her notification and you don't want that. Give some time to build up your relationship with her. As your relationship grows, you can post a link on her wall to something you think she'd like. Only do this once and wait for her to reciprocate before you do it again. Don't mention that you know what her interests are from stalking her page. Just try to mention something that you've realized you have in common and wait for her to respond. For example, if you know she likes the Lakers, post about them and wait for her to like your status.
    5) Message her
When she started replying your comments, it's a sign that she likes talking to you because if not, she would have shut you off. Using the private Facebook message, send her a few lines about something that reminded you of her, or direct her to a link you think she'd like. You can be a little flirtatious, but don't overwhelm the girl. Wait for her to respond. If she asks you questions, then she wants to keep the messaging thing going. Once you do this a few times, then you can take this as a sign that she wants to take it to the next stage.
    6) Chat with her
By now she should be used to communicating with you that it doesn't seem awkward to start a chat conversation with her. This is a great way for you to interact with her and make her attracted to you. If you tried flirting with her in your previous message and she's okay with it, then it's time to kick it up a notch. You could say, "Hey, cutie," or "You looked great in that pic you just posted." Don't be too forward, but let her know you're into her.
    7) Ask her out
The moment you've been waiting for. Asking her out here should be just like how you ask other girls that you meet offline out. Once you've warmed up the conversation, just say something like, "I really like talking to you over Facebook, so I have a feeling I'd like talking to you even more in person. Do you want to meet some time?" You can give her your number and wait for her to give you hers. Remember that you've only just met her so keep it casual and don't do romantic gestures just yet. So instead of bringing her out on a candle-lit restaurant, ask her out for coffee or a drink where you can get to know each other better offline.