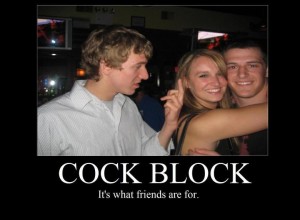 A lot of people get really confused between cock blocking and tea bagging simply because they sound similar in a way, and by that I mean sexually. Just to make it to clear by sexually, I mean the fact that it involves a male organ. But they are in fact used in different situations and have no connection between each other.
Cock blocking simply means interfering a man when he's trying to make a move on a girl that he has his eye on. For example, if you see a hot girl and you've been meaning to get her to go out with you and while you're hitting on her, another guy or even a girl comes in and embarrasses you IN FRONT of the girl you're trying to impress. Basically, it just refers to that action someone does that reduces your ego enough to think you won't succeed at that moment.
Tea bagging on the other hand, has nothing to do with hitting on a girl at all. It's actually a kind of an act that a guy does to another by putting his balls on the victim's face. This is commonly done by college students in order to prove something such as proving that his team is better than that of the opposition's, or even used as a test for freshmen to prove themselves worthy to join a team.